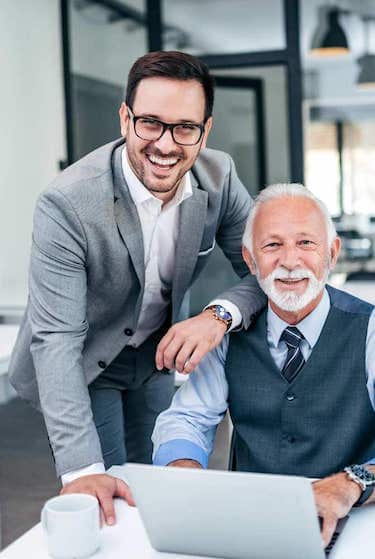 Description
This graduate program is proposed as the preferred option for training and creating a strong network community of leaders of innovative companies in all industries and sizes.
The Master's is aimed at members of business families, professionals from the business world and/or professionals from other disciplines who are already immersed in their professional careers and who have been developing their professional expertise, by virtue of their training and experience, and are interested in train as experts in some field of organizational management and the business world, either in the family business or in other business formats.
The master's degree is aimed at professionals who work in family businesses, who are interested in developing in this area or those who seek to create new companies. It is aimed at professionals who seek to strengthen different areas of business and administrative management with an interest in developing leadership and strategic thinking. It is also aimed at students who have graduated from business administration programs interested in the development and growth of family businesses. The program seeks to train these leaders to contribute to the sustainability and growth of these companies for the economic development of the country. The program integrates areas of organizational development, marketing, entrepreneurship and operations management, among others.
The 24-credit program is made up of a combination of 2- to 4-credit courses depending on the topics. In addition to the sequence of courses, the program includes a mentoring component, internal and external networking activities, and a degree project that is developed throughout the program.
Course Sequence
First trimester
MBA 601 Leadership and Organizational Development - 4 crs.
MBA 602 Legal aspects, ethics and social responsibility - 2 crs.
Second quarter
MBA 619 Business Finance - 4 crs.
MBA 618 Analysis of industries, forecasts and trends - 2 crs.
Third trimester
MBA 706 Entrepreneurship and Innovation - 4 crs.
MBA 707 Operations and Logistics Management - 2 crs.
Fourth trimester
MBA 713 Marketing Management - 3 crs.
MBA 715 Solution Formulation Project - 3 crs.
(Requirement - MBA 706)
Are you interested in doing a Master in Family Business?
Applying is a quick and easy process. You just need:
Bachelor's degree from accredited university
2.75 or more average
updated resume
Contacto