Campus Ministry Center, Mother Marta Miranda, RSCJ
The Ministry Center is a meeting place for students who wish to share, help each other grow, and mature as university students, no matter their religious background. You can study, interact, connect with your inner self and with others, nature and God, getting the impulse needed in your student life. You can learn to cook through cooking workshops and share meals with other students.
At the Center you will find: spiritual support, adoration of the Blessed Sacrament, guitar lessons, leadership program, chorus and dance group, Eucharist, missionary ministry, preparation for the Sacraments, Youth Ministry Certification, Ministry Participatory Planning Certificate, youth and spiritual retreats.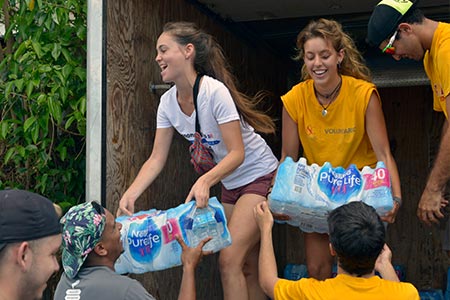 On the occasion of Service volunteer work to help the needy; The Pastoral Center of the University of the Sacred Heart in Santurce, Puerto Rico extends an invitation to work together in-service activities in Puerto Rico.
Sagrado is an institution of higher education that promotes a participatory, active and personalized education relevant to the current realities that seeks the development of critical and creative thinking skills from a multicultural perspective through the integration of theory and practice.
Volunteering in service centers is an enriching and unforgettable experience. It offers the opportunity to help the needy and their environment, offering them the opportunity to progress and have a better quality of life, helping them to change their vision of life.
Spiritual Support – this is offered to those who needs and asks for it.
Adoration of the Blessed Sacrament – Every Wednesday at 11:30 am at the University Chapel
Guitar Lessons – Every Thursday from 2:00 to 3:30 pm., registration at the Ministry Center.
Meal Sharing Community (COMESA) – Cooking Workshops and sharing meals with university colleagues.
Conéctate (Connect) – Leadership Program (workshops)
Connect with your inner self
Connect with others
Connect with the world
Connect with spirituality
Connect with a volunteer or mission
Chorus and Dance Groups – Any university student who wishes to share their talents with our university community in the Liturgy is welcome to visit the Center.  The Volunteer Program will certify hours of service.
Eucharists – Monday to Thursday at 12:00 noon, Sundays, at 7:30 pm.
Monday and Tuesday at the Ministry Center
Wednesday at the University Chapel
Thursday at the Magdalena Sofia Chapel – Barat building
Sunday at 6:30 pm at the University Chapel
Missionary Ministry – Two academic semester formation workshops prepare individuals to serve as missionaries in Puerto Rico and other countries.
Youth Ministry Agent Certification
This certification, in alliance with the Archdiocese of San Juan, authorizes a person to work in the Youth Ministry.  Meetings are every Wednesday from 7:00 to 9:00 pm in the Ministry Room. Two sessions: during the first semester (August to December 2016), starting with a retreat August 12 – 14, 2016 and another session, from January to May 2017.  Cost: $150.00. To register, go to the Campus Ministry Center or call 787-207-6961.
Certification in Ministry Participatory Planning
Certification in alliance with CEBITEPAL, CELAM in Bogota, Colombia, June 12-30, 2017. Cost: $350.00.  To register, visit the Campus Ministry Center.
Youth Retreats – Workshops and dynamic activities for junior and high school students to learn methodology and elaborate on topics, Fridays from 9:00 am to 3:00 pm in the Ministry Room.  Registrations at the Campus Ministry Center, free of charge.
Retreats and/or Spiritual Exercise Experiences
April 1-2, 2017
Sagrado Corazon Spirituality House in Barranquitas
Cost: $30 per retreat
Service Centers Volunteer Work
Volunteer work in the Summer Service Centers of the Universidad del Sagrado Corazón Campus Ministry Center is an enriching and unforgettable experience.
It provides a direct way, to help those in need and in their own surroundings to improve and have a better quality of life and help them change their outlook on life.
Who are the volunteers?
The volunteers are university students from Catholic Universities in the United States, 19 – 22 years old, that come to work at the Service Centers for the needy in Puerto Rico for two weeks.

Diariamente se publica una reflexión por correo electrónico llamada Momento Sagrado.
Terrace – a place for sharing. There is a microwave oven and WI-FI at this location

Study Room – A place to study with tables and computers

Nursing Room – A place for any mother to nurse the baby or father who has to change diapers or feed the baby

Gathering Room – A room with a TV and seating to share, hold conversations and come together
Universidad del Sagrado Corazón Chapel