The nursing program prepares you to give excellent care to the clients centered on human quality, moral and spiritual values, and respect for diversity.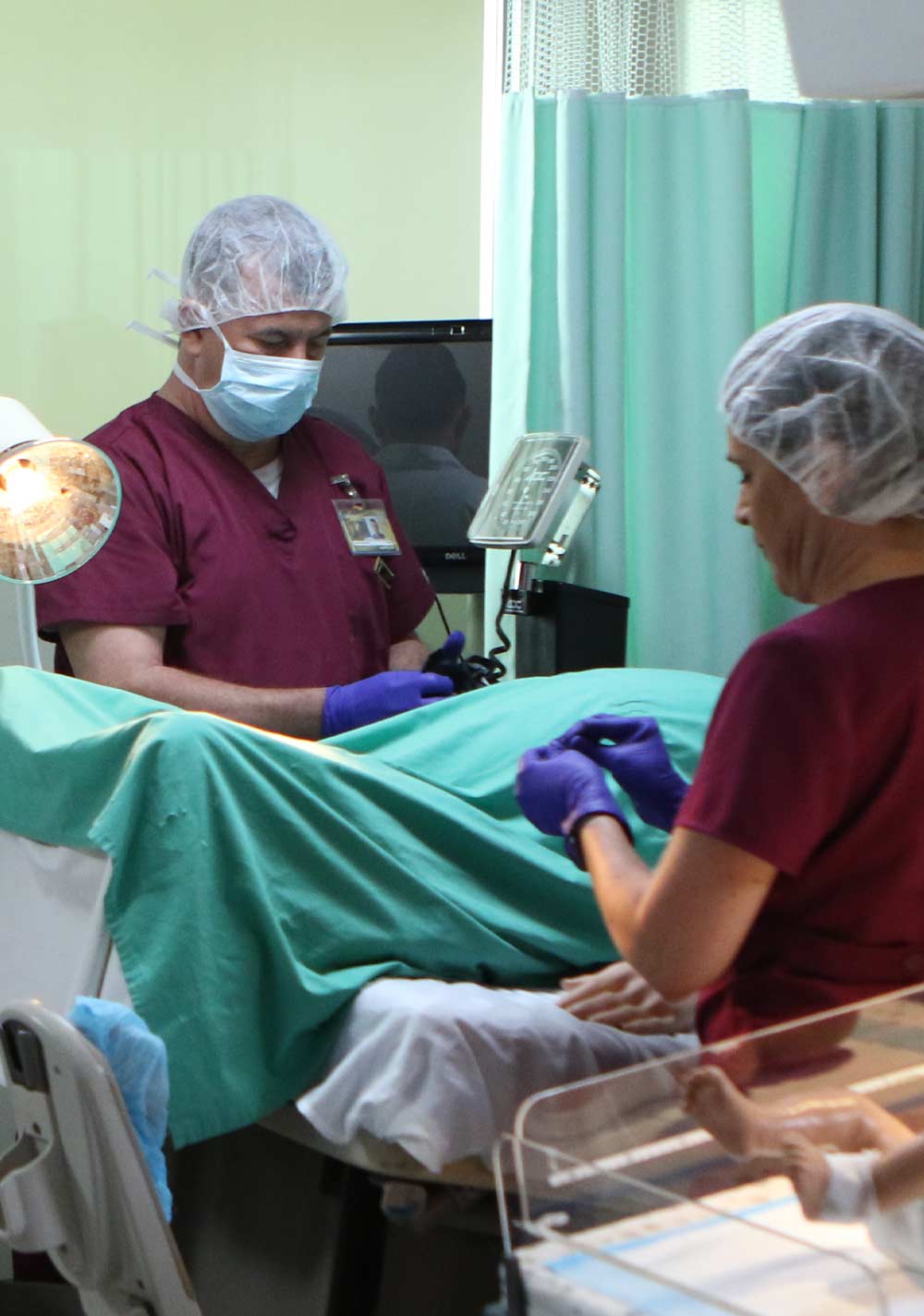 As an integral part of Sagrado, the Nursing Program's commitment is the development of adept nursing professionals with the required healthcare competencies, to be leaders who manage the highest quality of patient care, considering cultural, ethical and legal values, following the standards of nursing practice, among others that guide optimum levels of quality, care and safety practices.
Prepare highly educated nursing professionals to practice effectively and competently. Adopt a humanist, social, moral, and spiritual role in the care provided to create a culture of health and reduce health disparities in a global society, with an emphasis on prevention and welfare of vulnerable populations.
Prepare nursing professionals committed to community service and care, moral and professional values, and with the knowledge, skills, and attitudes to perform professional nursing roles as care, communication and customer service providers.
Use fundamental concepts of biology, social sciences, theology, and philosophy. Apply nursing knowledge to evaluate the understanding and use of emotions to respond to the human experience of health, disease, and healing. Integrate technology, information management, and biodiversity in offering quality care in customer service to meet the demands of health and social assistance.
Use the best available proof to develop evidence-based practices and research in a constantly changing world, providing the opportunity to increase the learning experience of students and the professional development of professors through continuous improvement processes in order to increase efficiency and productivity
Professors and students use university resources in accordance with their financial stability, to prepare themselves in building their own knowledge and professional development; to promote health and disease prevention, showing leadership and improving quality and safety in client care, among other competencies included in The Essentials of Baccalaureate Education for Professional Nursing Practice [American Association of Colleges of Nursing (AACN), 2008].
Apply knowledge and skills in leadership, quality improvement, and client safety in providing quality health care.
Apply the best evidence available into their practice in diverse health situations and settings.
Apply information management, and client-care technology in the delivery of quality client care.
Demonstrate knowledge of healthcare policies and their influence in the functioning of the healthcare system and professional nursing practice.
Communicate and collaborate effectively with colleagues and other healthcare professionals.
Demonstrate application of knowledge and skills in health promotion and disease prevention at the individual and population level.
Demonstrate behaviors of professionalism and professional values.
Practice nursing care competently with individuals, families, groups, communities, and populations across the lifespan and across the continuum of healthcare environments.
Our program prepares nursing professionals to exercise their profession in an effective and competent manner with a performance of excellence, human quality, and moral and spiritual values by providing a care centered on the client and his family.
The curriculum includes the development of professional competencies in the areas of fundamentals of nursing, Medicine and surgery, maternity, pediatrics, mental health and psychiatry, community, leadership, management and research, among other innovative areas of Health care. The physical facilities include a modern laboratory of simulations and skills, as well as modalities of online education.

Officially recognized by the U.S. Secretary of Education As a national accreditation agency, the College Nursing Education Commission (CCNE) is an autonomous accreditation agency that contributes to the improvement of public health. CCNE assures the quality and integrity of the baccalaureate, postgraduate and nursing residency programs.
CCNE serves the public interest in evaluating and identifying programs that participate in effective educational practices. As a voluntary self-regulation process, CCNE's accreditation supports and encourages ongoing self-assessment of nursing programs and supports continued growth and improvement of college vocational education and residency programs for Nurses.
Complete the application for admission to the University of Universidad del Sagrado Corazón and make the corresponding payment.
Have an average of 2.50 high school or 3,300 entry index. Candidates with a bachelor's degree or equivalent, have an average of 3.00 in that degree. Students with lower academic rate will be assessed by the Department of Nursing.
Send the professional interest questionnaire to the nursing program.
Specify the modality in which you are interested in studying in nursing sciences: in-person or online.
Be a citizen or permanent resident of the United States.
Submit a criminal record certificate issued by the PR police, valid for 30 days. If processed online you must validate the certificate and include a copy of the validation. Any candidate who has resided outside Puerto Rico for a term of five (5) years prior to the filing of his application shall present the original of the criminal record certificate issued by the competent authority of the state, country or countries where he has resided.
Students from institutions outside the jurisdiction of the United States must submit an accreditation of the academic degree by an evaluation agency of academic credentials
Foreign students have to comply with the requirements established in the current catalog. All documents relating to the legal status and residence in the USA of foreign students must be valid for no less than 2 years.
Students with associate degree in Nursing science must also meet the following requirements:

Have a permanent license and professional record of the PR Board of Nursing or its counterpart in the United States.
Present evidence of license and registration.
Present official identification of the Government of the country of origin, preferably valid passport.

Have access to a computer with the following specifications:

Operating system-Windows 7 or greater; MAC OSX 10.7 Lion or greater (ideally 10.10.2) with a minimum of 2GB of space.

Processor/RAM-Dual-core 2.4 Ghz CPU, 2GB RAM or better (Windows), Intel Processor, 2GB RAM or better (MAC)

Browser: Chrome 25.0 or higher, Mozilla Firefox 20.0 or higher, Internet Explorer 9.0 or higher, Safari (Chrome preferred)

Javascript Enabled & Third Party Cookies Enabled

Web-Cam Resolution - 800x600 or better (and a working Microphone)

Internet Connection - Cable Modem, DSL or better (300 kbps download, 250 kbps upload).

Have basic Internet browsing skills.

Basic knowledge and skills in operating system management, word processors, software and work tools.

Knowledge about managing email accounts, sending, attaching, and receiving messages.
Submit student copy of the transcript of credits from the institution of origin for initial evaluation and official copy, directly from the institution, for final decision of the courses to be validated.
Regular students of Sagrado admitted to another concentration interested in switching to nursing must have a minimum average of 2.50. To make this change you have to follow the related procedures established by the institution. Students with lower academic rate will be assessed by the Department of Nursing.
All students admitted to the nursing program must submit the following documents in order to enroll in the clinical courses. These requirements are aligned with the requirements of the hospitals:
Current health certificate issued by the Puerto Rico Department of Health or its counterpart in the country of origin. (Validity 1 year)
Puerto Rico Certificate of Law 300 – sex offender registry. (Validity 1 year)
Copy of birth certificate.
CPR Certificate (2-year validity) * cannot be processed over the Internet.
Evidence of vaccinations for Hepatitis B (3 doses) and chicken pox (2 doses). After the age of 10, you need to perform laboratory samples for titles. If the sequence of the doses is not correct (0, 1 and 6), titles have to be made to corroborate the development of antibodies.
Seasonal Influenza vaccine (annual).
Infection Control Certificate (OSHA).
Certificate of Confidentiality (HIPAA law).
Certificate Inhalable Particles (Validity 1 year)
Certificate of Intervention in Crisis (CPI).
Nasal culture and negative throat-this is required for some clinical areas in
Agreement with the policy of the collaborating institution.
Student identification with photo (Sagrado)
Photo 2 X 2 (as required by agency).
Curriculum Vitae (as required by agency)
Copy of medical plan (as required by the agency)
Other documents as required by the agency.
Once all the documents are completed in admissions, the Nursing Admissions Committee (Director, coordinator and faculty) will evaluate the candidate's file for approval.
Applicants who have completed a baccalaureate in any discipline will be able to validate up to 90 credits depending on the evaluation of the Committee: 46 credits in general education courses, 12 credits of Sciences and 32 credits of concentration.
The curriculum or sequential for people with baccalaureate enrolled in the distance mode, will be 21 credits per semester divided in terms of 6 weeks (3 terms per semester).
Once the application for admission is approved, the nursing program in coordination with the admissions Officer will assign you the courses you can enroll according to the current curriculum
Nursing Program Director
Nancy Green Laureano, M.S.N.
787 728-1515, ext. 2427
nancyi.green@sagrado.edu
Recruitment Specialist
Cyntia Giménez Soler
787 728-1515, ext. 3307
787 934-2555
cyntia.gimenez@sagrado.edu
If you need guidance about the nursing program, requirements, application process or to clarify questions, send us a message.